N.B. Het kan zijn dat elementen ontbreken aan deze printversie.
Europe Lecture - Cultural Heritage at risk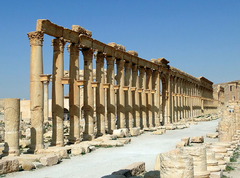 Bron: wikimedia/Bernard Gagnon
On June 13th 2016, Director-General of UNESO Irina Bokova gave a speech at the 14th edition of the Europe Lecture. Together with the president of the International Criminal Court Silvia Fernández de Gurmendi and researcher Sada Mire, she expressed her view on the many threats to cultural heritage in times of conflict. The lecture was moderated by Sneška Quaedvlieg-Mihailović.
What are the strategies and actions to respond to cultural cleansing, deliberate destruction of culture and illicit trafficking of cultural property, which is linked to the financing of terrorism? What are the European Union and the international community doing to safeguard the world's cultural heritage? Not only culturally, but also from a political and security point of view? What lessons can be learned by European politicians and citizens?