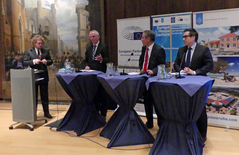 © Europese Unie 2016
The partnership between the European Union and the Overseas Countries and Territories OCTs after 2020 was the main theme at the 17 October Europe House Lecture. The relationship may change after 2020 when the Cotonou Agreement, which forms the basis for financing the Overseas Association Decision (OAD), expires. Will the OCT-EU relationship intensify or cool down? Will EU law apply to OCTs after 2020? The Brexit will have an important impact, since nine British OCTs may leave the EU.
Inhoud
sopgave van deze pagina:
The speakers were:
-

Cedrick Tilma, Representative of the Government of Aruba at the EU

-

Nout van Woudenberg, Kingdom Affairs Adviser, Dutch Ministry of Foreign Affairs

-

Catherine Metdepenningen, Head of Sector, OCT Unit, European Commission DG International Cooperation and Development
The panel members were:
-

Ole Moesby, ambassador of Denmark to the Netherlands

-

Irahim Moussouni, Chef du Bureau des politiques européennes au Ministère des outre-mer

-

Mininnguaq Kleist (Head of Greenland Representation/Minister Counsellor)
Dimitry Kochenov (University of Groningen) was the moderator.
Voor het afspelen van deze video is Flash nodig. Klik op deze link om de nieuwste versie te downloaden.
OCTs
Overseas Countries and Territories (OCTs) are non-European countries and territories that have a special relationship with the European Union and the EU Member States Denmark, France, the Netherlands and the United Kingdom. The relationship with the EU was traditionally characterised by reliable access to European Development Funds (EDF) and primarily focused on the economical and social development of the OCTs. They also enjoy special economic priviliges on trade policy. The OCTA website provides an overview of the OCTs by region.
OCTA
The Association of the Overseas Countries and Territories (OCTA) is registered as a non-profit organization in Belgium and has 22 members – including inhabited OCTs and TAAF (French Southern and Atlantic Lands). The OCTA allocates funds from the EU to the OCTs. Sustainable development from the OCTs is a primary goal for the OCTA.
OCTA's vision on post 2020
The Association of the Overseas Countries and Territories (OCTA) will present a vision on the post 2020 partnership at the OCT-EU Forum in Aruba in February 2017. In June 2016, the OCTA have presented a Draft Report on the post 2020 Debate and its implications for OCTs.
Article professor Dimitry Kochenov
---
---
---