N.B. Het kan zijn dat elementen ontbreken aan deze printversie.
EU-Overseas Countries and Territories partnership after 2020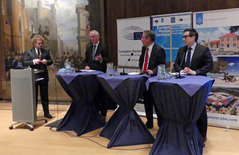 © Europese Unie 2016
The partnership between the European Union and the Overseas Countries and Territories OCTs after 2020 was the main theme at the 17 October Europe House Lecture. The relationship may change after 2020 when the Cotonou Agreement, which forms the basis for financing the Overseas Association Decision (OAD), expires. Will the OCT-EU relationship intensify or cool down? Will EU law apply to OCTs after 2020? The Brexit will have an important impact, since nine British OCTs may leave the EU.